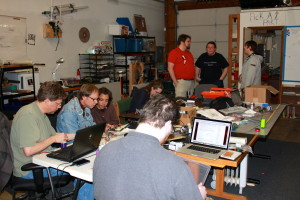 The Eugene Maker Space is a community shop located at 687 McKinley in Eugene, OR.
We have tools and equipment for working with wood, metal, plastics, and more.  We have laser cutters, 3D printers, and soldering stations too as well as work areas for constructing things.  Interested in Arduino, Raspberry Pis, or sending balloons to the edge of space?  So are we!
Our membership has gadgeteers, inventors, artists, and craftspeople from a wide ranging background.  Doctors to computer programmers, students to retirees, we've got all kinds of folks with a common love of tinkering and creating and we're always looking forward to meeting more people like us.
Membership with 24×7 shop access starts at just $25 a month and we have free 'Open Hack' nights twice a week (Tuesdays & Fridays) from 6-9PM where anyone can come and check out the shop.  Hope to see you soon!