Updated April 23. 2021

Due to the COVID-19 pandemic, we have been forced to adapt to a lot of challenges as an organization. Hardest hit by this, has been our traditional twice-a-week "Open Hack" nights, the evenings when we open the shop to the public free of charge.

As of this moment, Lane County is in the "High Risk" category, with local news articles indicating that we may be placed in the "Extreme Risk" risk category as early as 4/30/2021. This is a rapidly changing situation, and we recommend that you always refer to official sources for current information.

We have developed the following chart to try and clarify our organization's operation during various restriction levels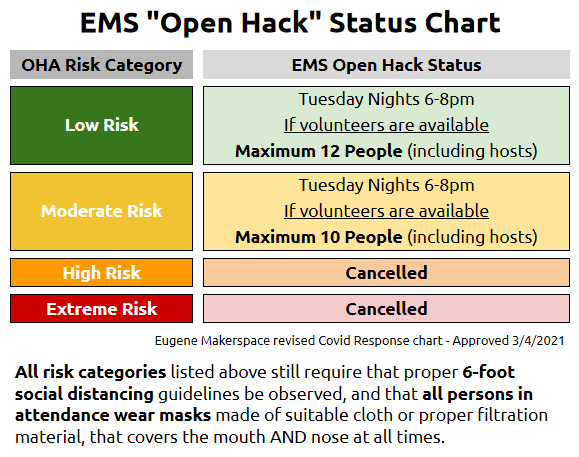 Open Hack Night has always been run on a volunteer basis.

In times past, we had a regular enough crowd that there was almost always at least one member there by 6pm to make sure the door was open to let members of the general public in. It is our hope that increased vaccinations among our members will allow us to find more volunteer hosts, once restriction levels ease again.

For the most up to date information, visit us in our Slack chatroom.
---
Covid-19 has also forced some changes to our "Members Only Access" times as well, particularly in terms of maximum occupancy, which again, fluctuate with Lane County's Official Risk Level.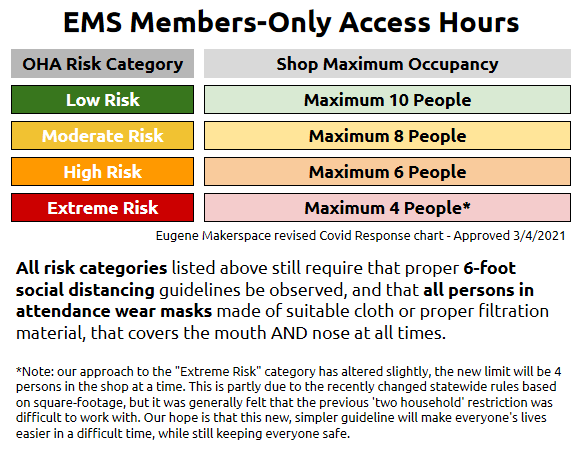 ---
Prospective members – If you've been wanting to join but haven't yet, we remain able to facilitate that process online. Click this link to begin the signup process.. and if you've already set up a key account but need to activate it, you can do that at Patreon.
We know that this is a difficult and sometimes lonely time for everyone, and we are looking for ways to utilize online tools to bring our community together during this time. We've discussed the idea of using tools like Jitsi, Google Hangouts, Zoom, and so on, to do online 'open hack' gatherings.. and of course we have our Slack chatroom which anyone can join!
To keep up to date on the latest news and advice regarding best health practices, visit Lane County Public Health's Coronavirus Information Hub .