Second Annual Punkin' Chunkin' Competition!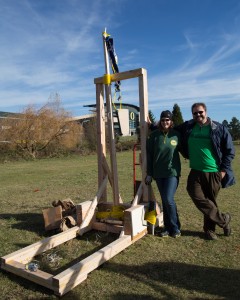 We are pleased to announce the second annual Eugene Punkin' Chunkin' competition! The competition is put together by Eugene Maker Space and hosted by The Science Factory. If you didn't make it to last year's contest, you missed some amazing contraptions and some pretty incredible pumpkin launches. Just watch the video below to get an idea of what you might see at the event.
Where and When?
Where: The Science Factory front yard
Date: Sunday – November 2, 2014
Time: 12:00PM to whenever it ends!
Launch Zone
You can see the launch zone in the below picture. Contestants will launch from the blue firing line aiming down range to the east. The first red box is the primary launch zone. "The Great Beyond" is further down range and will remain clear in case any contestants are capable of building launchers that can actually chunk that far. Last year we had several launches that successfully reached The Great Beyond!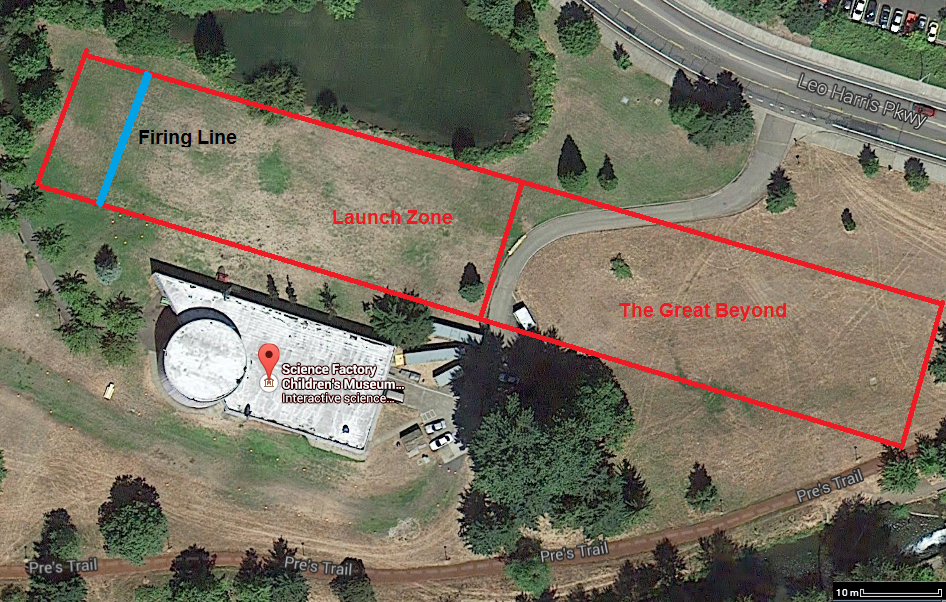 How to Enter
You do not need to be a member of Eugene Maker Space in order to compete. Everyone is free to enter the competition. If you would like to sign up to compete, please email Rick@RichardOsgood.com with your team name and the names of your team members. Also include which class you intend to compete in. It is also highly encouraged (but not required) that you email the EMS Discussion list and announce your intention to enter the competition!
The Rules
Classes
This year we will have two classes of chunker. The first class is the "Pumpkin class". The rules will be the same as last year and are posted below. The second class is the "Apple class". This class is specifically for smaller machines that will throw apples instead of pumpkins. The intent with the Apple class is to lower the barrier to entry and allow people to particpate while building smaller, less expensive, and less dangerous machines.
Safety
No compressed air/compressed gas devices
No explosives.
Teams must release all energy from their launchers until it is their turn.
Contest Rules
You may sign up as an individual or as a team.
Machines must not cross the firing line.
Machines must be ready to fire within 5 minutes.
Each team will get three launches.
If a team loses a projectile after launch they may get an one extra try if the team has a backup projectile ready to go.
Teams provide their own pumpkins.
rojectiles must remain intact until they hit the ground.
Projectiles cannot be modified (except for painting).
Teams may paint their projectiles for decoration.
Teams may enter the exact same chunker from a previous competition if they so desire.
Team members may be a part of multiple teams if all teams are OK with it.
Pumpkin Class Specific Rules
Pumpkins must weigh between 1lbs and 5lbs.
Apple Class Specific Rules
You can use any apples you like.
How to win
To win the competition you just need to chunk your punkin' farther than the other teams. That's it! There will be three heats. Whichever team gets the furthest launched pumpkin out of all three heats will be declared the champions.