Shop Cleanup Day

It's been a long time since we had a shop cleanup day, and we needed it pretty badly. We had around eight people show up today to help clean, organize, and otherwise improve EMS. While there is still more that can be done, we made a lot of great progress and made some pretty big changes to the shop layout. Ultimately we are hoping that these changes will lead to better use of our limited space, and also make it easier to access and use the tools we have. Here are some of the highlights from today.
One of the biggest changes you will notice at EMS is that the big workbench with the peg board has been moved to the west wall next to the other work bench. This freed up space to move the vacuum forming machine next to the 220V outlet. This is much more efficient since it was always necessary to awkwardly wheel the vacuum former over to the corner every time someone wanted to use it. Now it's right where it needs to be and will therefore be so much easier to use as needed. This also freed up a bit of extra space on the south wall for us to put the large format printer and vinyl cutter. This gave us more room to move around and work over near the bay door.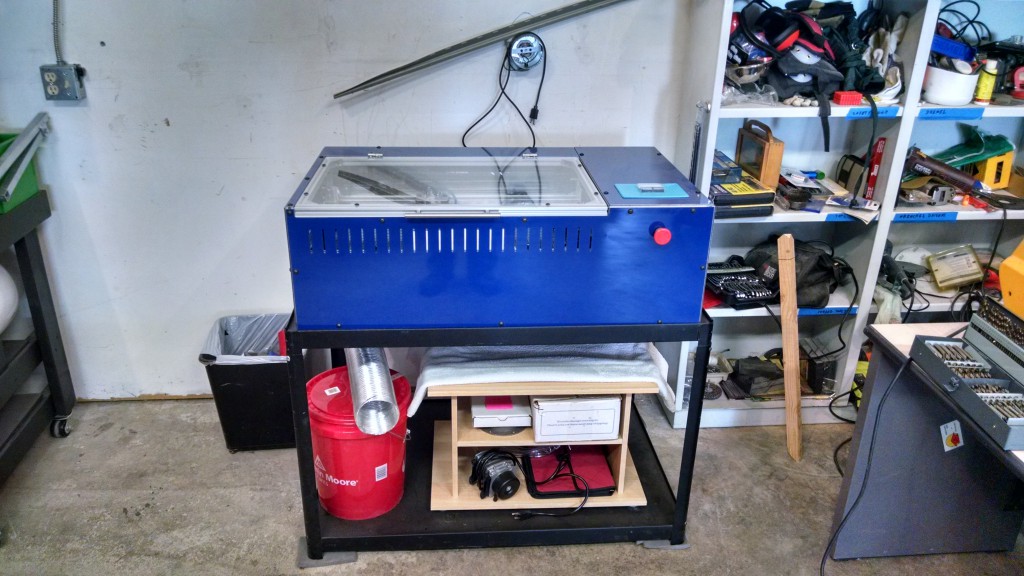 Also, we finally did something with that giant AV cart. We've had that thing forever but really it took up too much space and was an awkward shape to be useful in our space. We removed the wheels and removed the top portion of the cart and turned it into a small table. This table was the perfect size for our laser cutter. We were able to kill two birds with one stone by saving space from the old AV cart and building a laser cutter table all at once!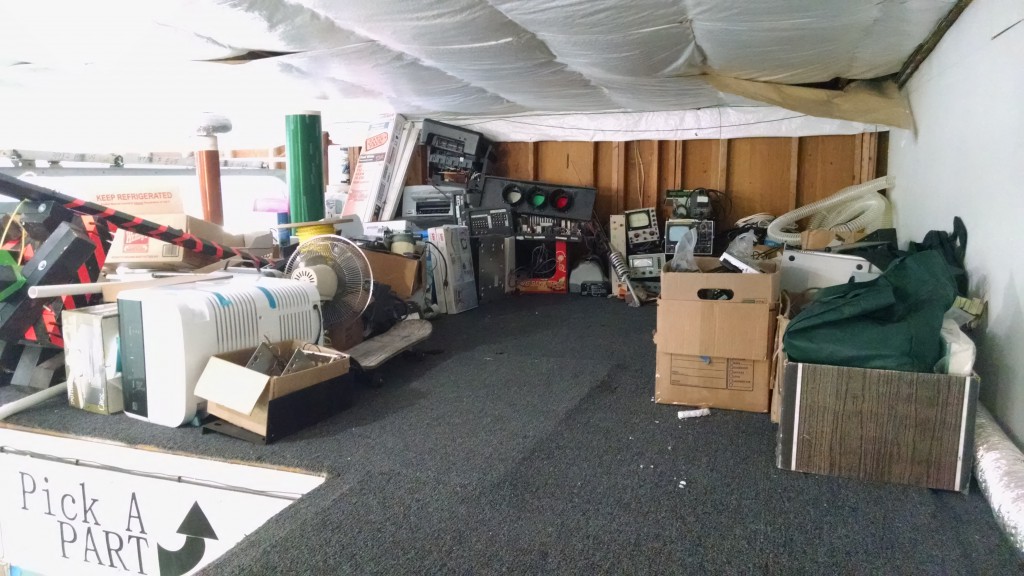 We also spent a lot of time combing through the pick-a-part area and organizing it. I don't know how many cardboard boxes were recycled, but it sure was a lot. I've been told there's even some level of organization going on up there now, so be sure that you don't just haphazardly toss things up there in the future. Try to find the spot that makes the most sense.
We plan to hold these clean up days every other month to help keep the shop tidy and efficient. If you didn't make it down this time, you should come down next time! It's not all sweeping and running to the dump. If you come down to the clean up days you also get to have a say in how the shop is organized in order to be more efficient for our members. We make these decisions together so as to make the space more usable for everyone. We also inevitably start working on "shop improvement projects" such as the laser cutter table, or building a custom mount for the IP camera. We easily come up with a big list of things to do, so you need not worry about having no idea what you can do to help.